Who are you thankful for this season?
Nov 21, 2022 by Exway | The Most Advanced Electric Skateboards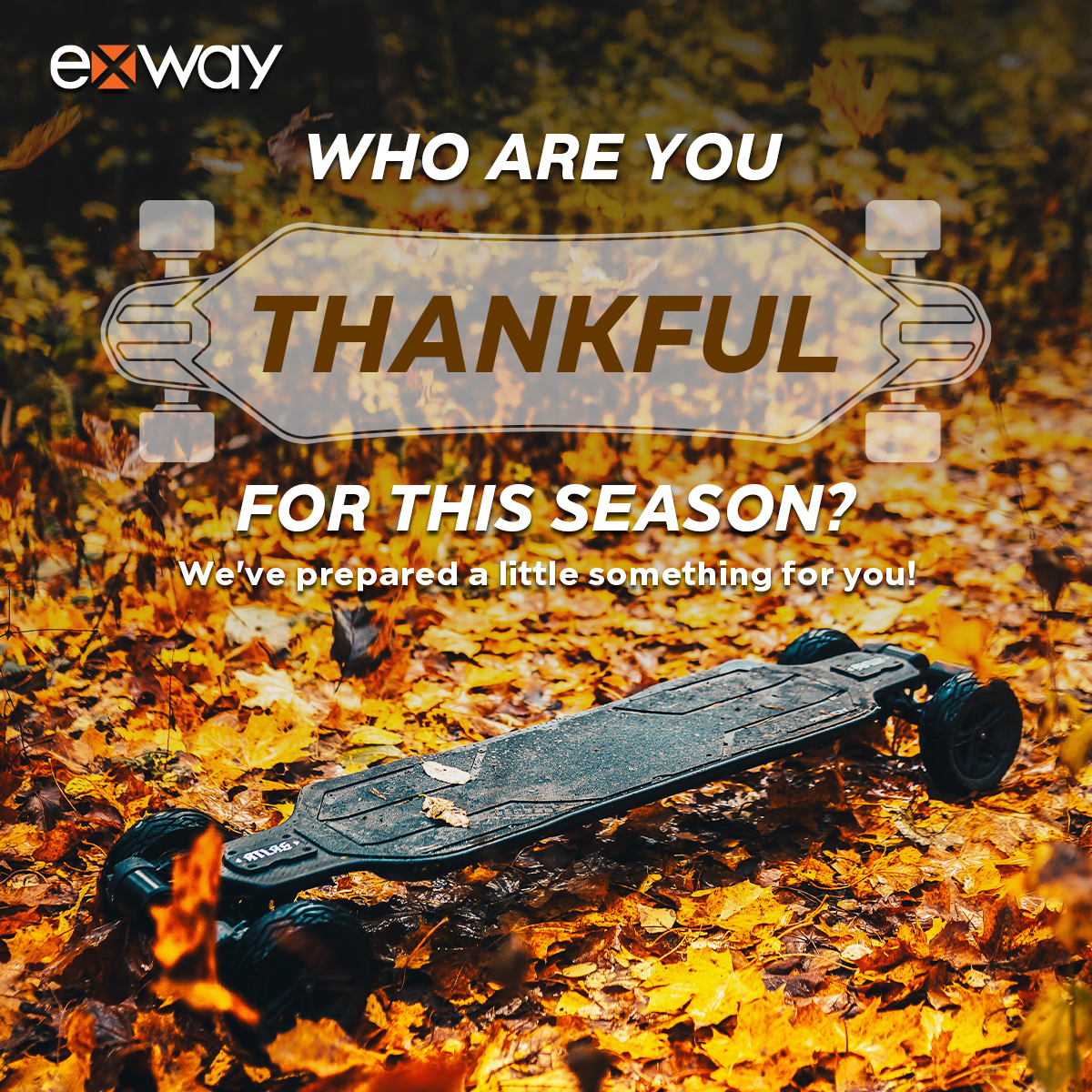 Who are you thankful for this season? We'll go first: we're thankful for all of you!
We received a lot of valuable feedback from our recent customer satisfaction survey. Thank you so much!
As part of the survey activity, one person is to win a Pro Skate Backpack, and the winner is Austin James Davee.
We have also selected 5 lucky riders to each receive a mystery box of accessories. The winners are Owen Taylor, Jorge Kenneth Hernandez, Jacob R Heyting, Vicente De Gorostiza, and Alexis.
Congratulations!
All survey participants will receive a $20 exwayboard.com voucher by email in the coming days. Thank you all again!
NEW ACTIVITIES
In this month of thanksgiving, we have also prepared other activities and new prizes for our users:
Nov 18 - Nov 24
(US Pacific Time⁠)
ACTIVITY ONE
As a small token of our appreciation for our wonderful riders, we are giving away 3 $100 vouchers!* To participate, simply tag at least 2 people you're thankful for under the IG post. and share with us what you're thankful for in 2022.
ACTIVITY TWO
Post to Instagram your Exway skateboard miles and tag #exway and @exwayboard6, and one user will be chosen to receive a set of our new Hydro all-season wheels.
ACTIVITY THREE
Post to Instagram all your Exway boards and tag #exwayboard and @exwayboard6 and one user will be chosen to also receive a set of the Hydro all-season wheels.
* The vouchers are redeemable only at www.exwayboard.com for any product on the website. Leftover balance will not be refunded and shipping fees are not covered. Vouchers expire December 31, 2022.