Generation 3 Foo Dog Protective Gear Collection
Generation 3 Foo Dog Protective Gear Collection
Stay protected with Noblemantech, don't let one fall stop your passion. Put some gear on and ride on.
Package includes:
2 PCS (1 Pair) Wrist Supports for both left and right hands. Only Free size (One size fits all)
2 PC (1 Pair) Kevlar knee pads. Size: S/M L/XL
2 PC (1 Pair) Kevlar elbow pads. Size: S/M L/XL
G3 upgrade:
Foo dog Reflectors(On the front of the elbow and knee pads)
Warning reflectors (On the back of the elbow and knee pads)
More durable and breathable
Reinforced edges
Upgraded shock-absorbing lining
Thickened Kevlar
Features:
Anti-collision, Comfortable Sponge Lining
Comfortable Breathable Fabric
With Kevlar (Kevlar is used for body armor)
Adjustable Elastic elbow pads
Shield Penetration and Impact Resistance
Fits Most, Flexible adjustment
Ergonomically designed for maximum mobility
High quality molded EVA high foaming material
Minimizes harsh jolts to the elbow and knee
Very elastic, windproof
Reflectors
Description:
SIZING - Snug fit, size up if on the border between two sizes. Available in sizes S/M L/XL. See the size chart for details.
PROTECTION: Don't let a bad fall get you down. These pads feature fully articulated hard shell fortification to protect you in the event of a fall or accident. The cups are plushly padded to help absorb shock and surrounded by extra padding for even more impact resistance. To top it off, the whole thing is Kevlar covered for added protection against scrapes and scratches.
COMFORT: Stay comfortable, even in the heat of the moment. The perforated neoprene construction was designed for all-day wear, so it's breathable enough to keep you cool and lightweight so it never weighs you down. These elbow and knee pads also come with a pre-curved, ergonomic fit, which makes sitting in a ride position for long periods a breeze.
FIT: The Nobleman focuses on superior fit for superior protection. Featuring a wrap-around hook and loop closure, this elbow armor is incredibly easy to put on, take off, and adjust on the fly. You'll also never have to worry about them slipping down at an inopportune time, thanks to the interior silicone strap.
USE: Designed for multi-sport use, these pads will keep you protected no matter what. From Downhill, Mountain, and BMX Biking to Snowboarding, Skiing, and beyond - these pads perform in any sport where falls and crashes are common. Suit up and stay safe!
The riding protective gear designed by Nobleman changes protection from passive to active. Daily protective gear protects us from injury when we fall, but it is inevitable that other vehicles or unforeseen situations on the road can cause fatal injuries to us. Therefore, all Nobleman protective products will use cool patterns with REFLECTIVE WARNINGS. This way our protection will be changed from passive to active, and the protective gear will have a unique style.
At the end of last year, we launched Generation 2 Knee and elbow pads. For G2, we made some upgrades from the original passive protection to passive protection + active protection.
Please allow us to explain, most of the protective gear brands that we come in contact with are active protection. Most of protection brands are more focused on the protection level of the protective gear, the comfort of the protective gear, and whether it is convenient to wear. This is passive protection.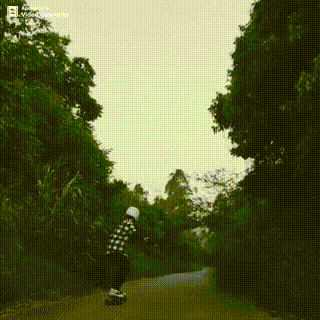 The active protection is to minimize the possibility of being hit, and some unexpected situations make it impossible to control your own means of transportation. For example, at night, when you are riding an electric skateboard on the road. Passing vehicles can't see you, subconsciously, in order to avoid cars, you take better control of your electric skateboard, which increases the probability of falling.
So what upgrades have we made in Generation 2?
First we still use Kevlar as the main part of Knee and elbow area, Due to rider's fall, it must be wearable.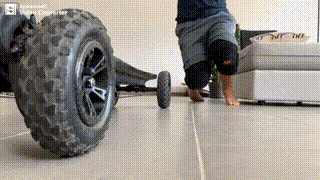 This GIF provided by @acvrider
Adding reflective strips behind the knee pads and elbow pads, (riding electric skateboards, two-wheeled skateboards, EUC, Onewheel,etc) have greatly improved safety, making it have passive protection and extend to active protection with the help of reflectors.
Thicker Kevlar fabric is used to increase the durability of the fabric.
The surrounding fabric is changed to diving fabric, which increases the tensile strength of the fabric, while maintaining stretch-ability and improving comfort.
We added silicone anti-skid strap on the inside to prevent the knee pads and elbow pads from sliding. This way during the worst falls your elbows and knees will be protected to the fullest ability.
And a few months ago we decide to upgrade to Generation 3
So what upgrades have we made in Generation 3?
Foo dog Reflectors (On the front of the elbow and knee pads)
Warning reflectors (On the back of the elbow and knee pads)
More durable and breathable
Reinforced edges
Upgraded shock-absorbing lining
Thickened Kevlar