More Performance, Smoother Ride
Exway is proud to introduce a high-performance, feature-packed electric skateboard at an even more affordable price.
Super Flex Deck
• Parabolic wheel cutouts mean larger wheel compatibility.
• No more compromising stability for comfort. Optimized flex patterns allow wider sections of the deck to have lower flex for more stability while the narrower waist has more flexibility for a smoother ride.
• Alternating layers of multi-directional fiberglass,, and bamboo combine to create a super-tough and elastic deck.
• The surface of the deck adopts the latest UV fiberglass printing processes for a more vivid and durable pattern.
• The head and tail of the board are slightly angled to improve handling and make it easier to pick up. True skaters will appreciate these design innovations!
It's All About The Details
• Shock-absorbing foam grip tape: Now standard on the Exway Flex. More water-resistant and vibration absorbing. Improved comfort and strength.
• Exway 2nd Generation Wheels:
A. Softer at 76A for a smoother ride.
B. 85mm wheels take advantage of the new parabolic cutouts to give you more stability at speed.
C. 90% ultra-high-rebound urethane provides the perfect balance between softness and durability.
Swappable Drivetrain Options
• A single FOC ESC is compatible with both the hub and belt drivetrains.
• Quieter hub-motor drivetrain while giving greater ground clearance.
• Belt-drivetrain has more torque while multiple pulleys allow compatibility with most wheels. Your wheels, your choice.
Advanced App
• 3 preset modes for different skill levels along with easy further settings to customize acceleration and braking lets you easily dial in your ride.
• Turbo function. Enjoy hair-raising top-speeds of 25mph with turbo-mode activated.
• Select your wheel size in the app for more accurate speed and distance calculation.
• Custom standby time, the board will automatically shut down after a period of inactivity.
• The user-friendly app allows you to activate cruise control, change gears while moving, enable Free Mode and more.
Industry Leading Remote Control
• Remote on/off capability, power on or off from your controller.
• Hibernation mode consumes less than 3% of your battery meaning your board is always ready when you are.
Reliable & Maintenance-Free
• Reliable and virtually maintenance-free At IP55 the Flex offers the same, most water-resistant board on the market.
• The modular design of the ESC, battery, and power system means each part can be easily swapped.
Smart Battery
• 24 safety sensors connected to the ESC leaves no unmonitored cells.
• UL certified multi-layer software and hardware protection circuit always engaged.
• SONY VTC 6 high-capacity 18650 cells with a high discharge rate ensure strong performance and reliability.
• High-precision galvanometer monitors battery to within 1% for more accuracy and consistency.
• Long-term storage will automatically trigger the low-power mode.
• Replaceable design with an IP55 waterproof rating.
Exway Trist Truck
• The all-new Trist truck utilizes a Proprietary Forging and CNC Milling Manufacturing Process developed by Exway Engineering Team for improved strength compared with traditional die-cast trucks.
• T6 heat treatment for high-strength hangers and reinforced baseplates.
• Industry-standard bushing sizes mean compatibility with most bushings on the market allowing you further flexibility to customize your carve.
• The bushings' top and bottom ends are equipped with bowl-shaped gaskets to further improve stability, especially during high-speed sliding.
• The hand-cast polyurethane Pivot Cup improves shock absorption, durability and noise reduction.
• The VIRGIN A352 Aluminum,SCM435 Alloy steel Kingpins and SCM440 alloy steel axles ensure superior strength.
• 8 inch Length / T6 Heat Treatment / 45° Baseplate Angles / 90A stock hardness.
SPECS
| | |
| --- | --- |
| Max Speed: 25 mph / 40 kph | Max Climbing Grade: 30% |
| Range: 20 miles/ 32km | Weight: 17lbs / 7.7kg |
| Torque: Hub 4.6Nm ×2 / Riot 5.2Nm×2 | Max Power: Hub 1200W×2 / Riot 1500W×2 |
| Rated Power: Hub 600W×2 / Riot 750W×2 | Rated Charger Power: 75 Watts(Standard Charger) / 204 Watts(Quick Charger) |
| Input Voltage: 51V - 4A Max | Battery Capacity: 259 Wh |
| Grip Tape: 2mm Shock-Absorbing | Trucks: Exway Trist 45° 8inch |
| Waterproof Rating: IP55 | Braking Mode: Regenerative Braking |
| Charging time:4h 40min(Standard Charger)/1h 30minutes(Quick Charger) | Dimension: 940*294*140mm (L*W*H) |
| Warranty: 12 months | Package Includes: Electric Skateboard*1, Standard charger*1,Manual*1, T tool*1, Remote controller*1. |
Exway Atlas FAQ
1. How many pieces of Atlas available for pre-sale and when it will be shipped?
The Exway team is always striving to provide customers with higher quality products and more efficient delivery timeframes. However, with the outbreak of the COVID-19 pandemic, and the Chinese Lunar New Year holiday in February, most Chinese factories are/will be closed. After extensive discussions with our suppliers, we have decided the following for Atlas pre-orders:
Only 500 Atlas boards will be available to pre-order, so if you are interested please place your order as soon as possible. We will ship the boards on a first-come-first-served basis.
We are aiming to deliver the boards to customers in April - but the specific time will become more apparent when we return from the Chinese New Year holiday. At Exway - we place a huge amount of value on communication with our customers, so if there are any delays or changes, please rest assured that we will keep you informed.
2. What are the main shipping methods and how much does the shipping cost?
The first batch of Atlas boards will ship directly from our HQ in Shenzen, China. The Atlas is a MONSTER, and because we packed it with features it is very large and heavy. Therefore the shipping, especially air shipping, is extremely expensive. Up to $250 per board. For that reason, we are providing free standard shipping by sea for all pre-orders. If you would prefer faster shipping by air, please select Fast Shipping at the checkout and pay the additional $130 shipping fee.
3. Is there any discounts that available for the presale?
During pre-orders, all customers using the discount code"EXWAYATLAS150" will receive $150 off their Atlas. Additionally, those placing orders before the 5th of February 2021 will also receive a free motor anti-collision protection bracket RRP $49 (while stocks last).
4. What is the difference between the engineering prototype Atlas and the mass-production (Pre-order) Atlas?
The motors used in the engineering prototype are the same as those used on the Flex-Riot, i.e. 4230 160kV brushless motors. Meanwhile, the mass-production (Pre-order production) Atlas uses 4240 160kV brushless motors both for 2WD & 4WD. The 4240 motors have a lower calorific value, allowing them to withstand 30% more maximum power than the 4230's. They will be able to function under high load for extended periods of time.
5. What are the main differences between 2WD and 4WD performance? How do I choose between the two models?
For reference, the Flex-Riot board has a total power rating of 1360W. The mass-produced Atlas-2WD is rated at 2016W of total power (48% more than the Flex-Riot). Meanwhile, the mass-produced Atlas-4WD has a total power of 3,024W (50% more performance than the Atlas-2WD).
If you need longer battery life and a cheaper price, you should opt for the Atlas-2WD – but if you want the highest-level performance and the most powerful features, you should choose Atlas-4WD.
6. If I buy a 2WD can I upgrade it to 4WD later?
Yes, you can! Through rigorous research and development in-house, we developed the Exway Atlas Carbon so that it can transform from 2WD to 4WD with ease. If you buy the 2WD version, just by purchasing an additional drive train and another ESC (sold separately), you can upgrade to 4WD. Similarly, if you buy the 4WD version, you can easily downgrade to 2WD by removing one of the drive trains – or you can set it to run as 2WD through the remote.
7. Is there a hub or direct drive motor version? Can I mix and match drive kits?
In the future, there will be direct drive and hub motor drive kits that riders can install on their boards easily. It will also be possible to mix and match different drive trains – such as rear-wheel belt drive and front-wheel direct drive.
8. What is the battery life? What is the maximum speed of each version? How long will the charging time be?
Please see the Atlas section of our website, where the specifications of each version of the Atlas are laid out fully.
9. Which street wheels can I use on my Atlas?
The Atlas is compatible with almost all wheels available on the electric skateboard market. We offer a wide selection of wheels which you can purchase directly with the Atlas. You can find them all on the Atlas section of our website.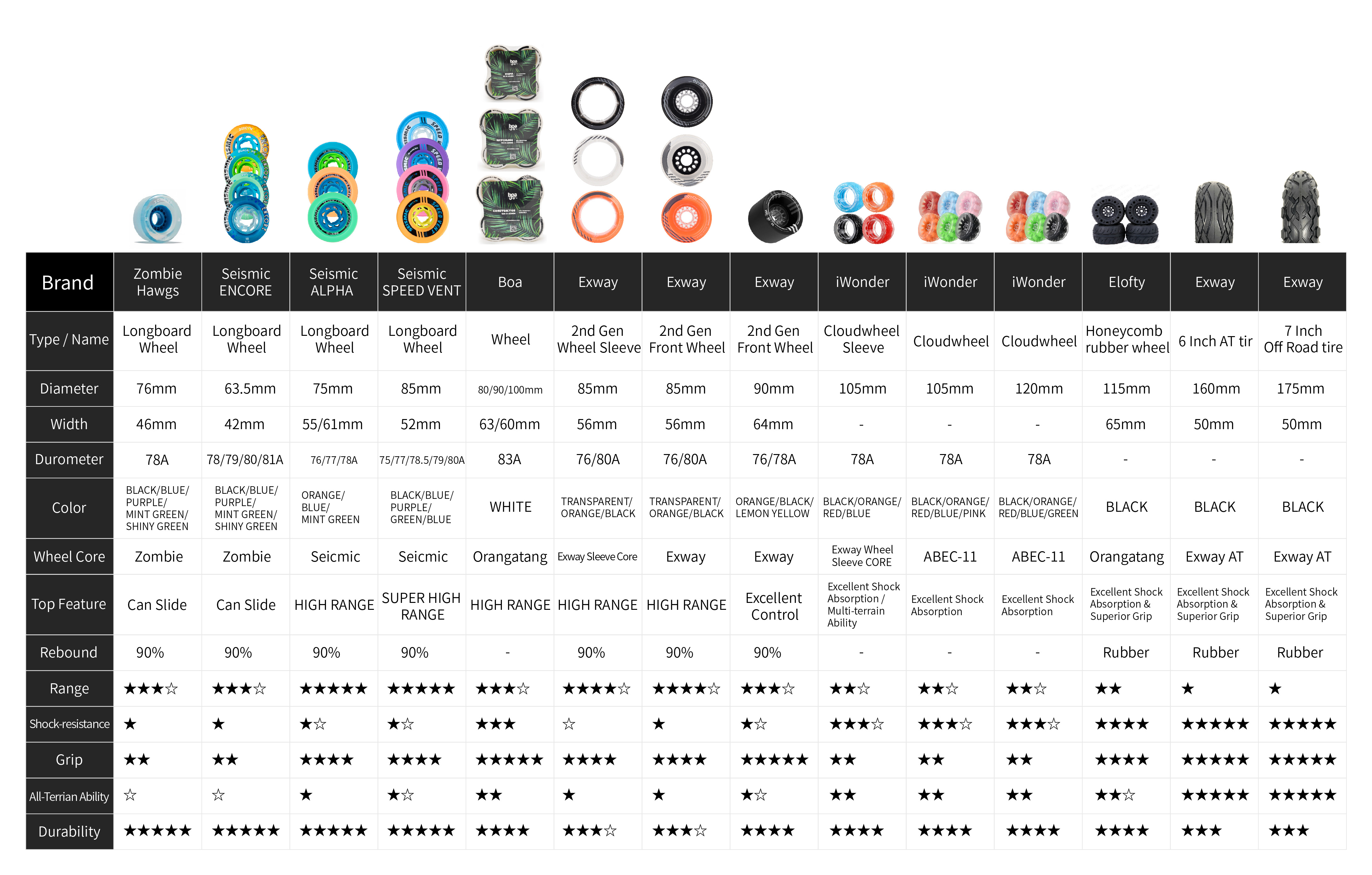 10. How do I choose the right pulleys and belts for Atlas?
First, choose your favorite wheels from the chart above, then follow the chart below to select the correct pulleys and belts for your Atlas.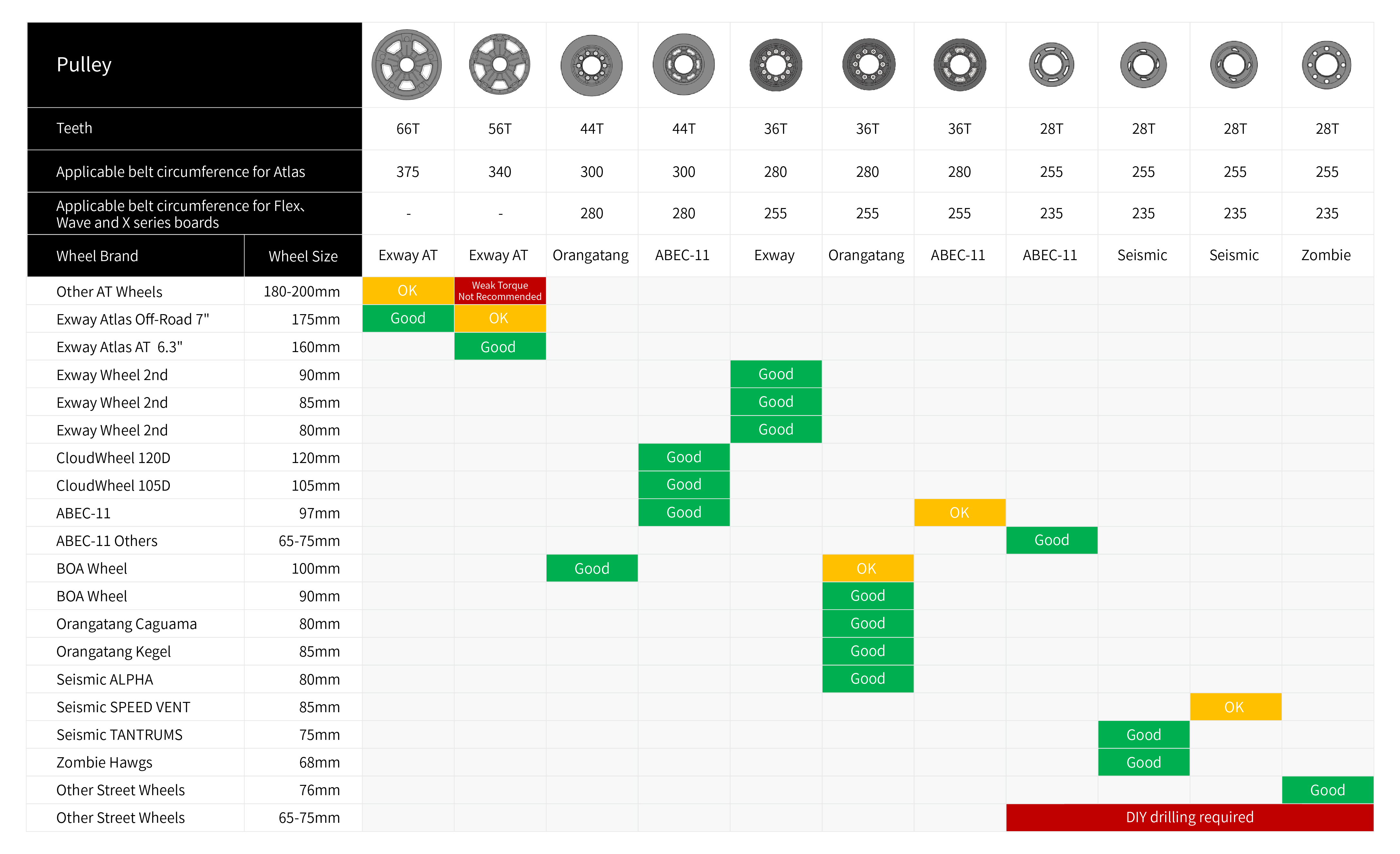 11. What pulley is available with Atlas? Why does the street wheel Atlas spark in the Tank Mode video?
Exway has introduced a 28T CNC gear that can accommodate almost any electric skateboard wheel on the market with a large core.
The wheels causing the sparks in the promotional video have flint embedded within them. They are DIY test wheels which we developed in-house by manually drilling and fixing the flint in place – they are not currently available for purchase.
12. Is there any option to purchase the Atlas with Shredlights?
No – but you can buy purchase lights from our website or Shredlights directly and install them seamlessly onto the Atlas fenders.
13. Can I buy the Atlas with street wheels only?
Unfortunately, at this stage, you can't. In order to facilitate production and bring Atlas to the market as soon as possible, Exway will not stock the Atlas in a street configuration only. If you want the street setup, you can purchase the 2in1 kit which will include the AT and street wheels and drive trains.
14. Which wheels does the fender fit on?
The Atlas motor bracket has integrated mounting holes for mounting the fender and motor anti-collision protection bracket. The fender is made of nylon material with enhanced durability and crash-resistance.
The "off-road mudguard" (or fender) is most suitable for the 160-175mm tires and can be height adjusted in small increments. If used with street wheels, the mud/water retaining capability of the fender will be relatively poor. In the future – fenders designed specifically for street wheels may be released at a future date.
15. Can I ride the Atlas in the rain?
The short answer is yes, but we don't recommend it! The Atlas has the most enhanced water resistance of any Exway product to date. However, the wheel and motor bearings are susceptible to rust after exposure to water. After rusting, the running noise of the motors will be louder – and the motor bearings will need to be replaced, which is a cost you will incur as this is not covered under the warranty. Board components aside, riding in the rain can be extremely hazardous and can cause severe injuries. We advise riders to exercise caution and avoid rain-riding as far as possible.
16. Can I use the Atlas on sand and dirt trails?
Yes – you can! Pneumatic AT tires are recommended for sand and dirt trails.
With its grippy tire tread, the 175mm off-road pneumatic tire has the best sand discharging performance. It uses a 66T pulley and a sealed belt cover to prevent the belt from getting jammed with sand and gravel.
17. How do I distinguish the forward direction of 4WD?
The direction of travel can be determined by the design of the Atlas grip tape. Printed on the grip tape is the word "4WD" and the Exway logo – this is the rear of the board. The charging port below the deck is also at the rear of the board.
18. Is the battery replaceable?
Yes – the battery pack can be replaced! But like the X1 Pro series, you have to lift the battery cover which is a little troublesome. Therefore, we do not advise customers to replace the batteries by themselves.
19. What are the full battery specifications of the Atlas?
To ensure all users can experience the highest quality and reliability of their Atlas skateboards, we will now be using the even stronger 21700 cells instead of the originally assigned Samsung 18650 30Q cells.
So, what are the 21700 cells?
The 21700 cells (same 50.4V-518WH, High Voltage and Efficiency Electronic System with 21700 Battery Cells and output Current=60A)have a higher space utilization per cell within the same assembly space and their energy density is much higher than the 18650 cells. Our engineers have done numerous tests and the new 21700 cells have been well proven to be a more suitable battery pack that can meet the requirements of the powerful Atlas.
20. What kind of trucks does the Atlas use?
The Atlas Carbon is built on Exway's Trist 9.5" forged and CNC trucks, which are reinforced to 10mm – they are DKP trucks.
21. I don't like DKP trucks very much. Is there the option of a more common truck?
We always strive to meet all our customers' needs – and we hope to release traditional-style trucks for Atlas users in the second half of 2021!
22. Does the Tank Mode feature work for the dual drive Atlas?
This feature is available for both 2WD and 4WD models – however, the turning radius of 2WD is double that of 4WD.
23. Can I stand on the board when using Tank Mode?
Unfortunately, no you can't. The Tank Mode feature only works when the wheels are sliding against the ground. With the board under load, the wheels will not be able to spin.
24. Where will the Atlas ship from, and what is the logistics time frame?
The first batch of Atlas Carbon will be shipped from Exway headquarters in Shenzhen, China. Future batches will ship directly from the nearest warehouse to you – such as the Exway USA or Exway Europe warehouses. The exact arrival time is dependent on the logistics situation of each country.
25. How long is the warranty?
The warranty period is 12 months. It does not cover perishable items such as wheels, belts, wheel bearings and motor bearings, etc.
26. Can the rider get on it and enable Tank Mode?
No, the Tank Mode only available when the skateboard is unloaded, the skateboard will not be able to turn itself when a man is standing on it.