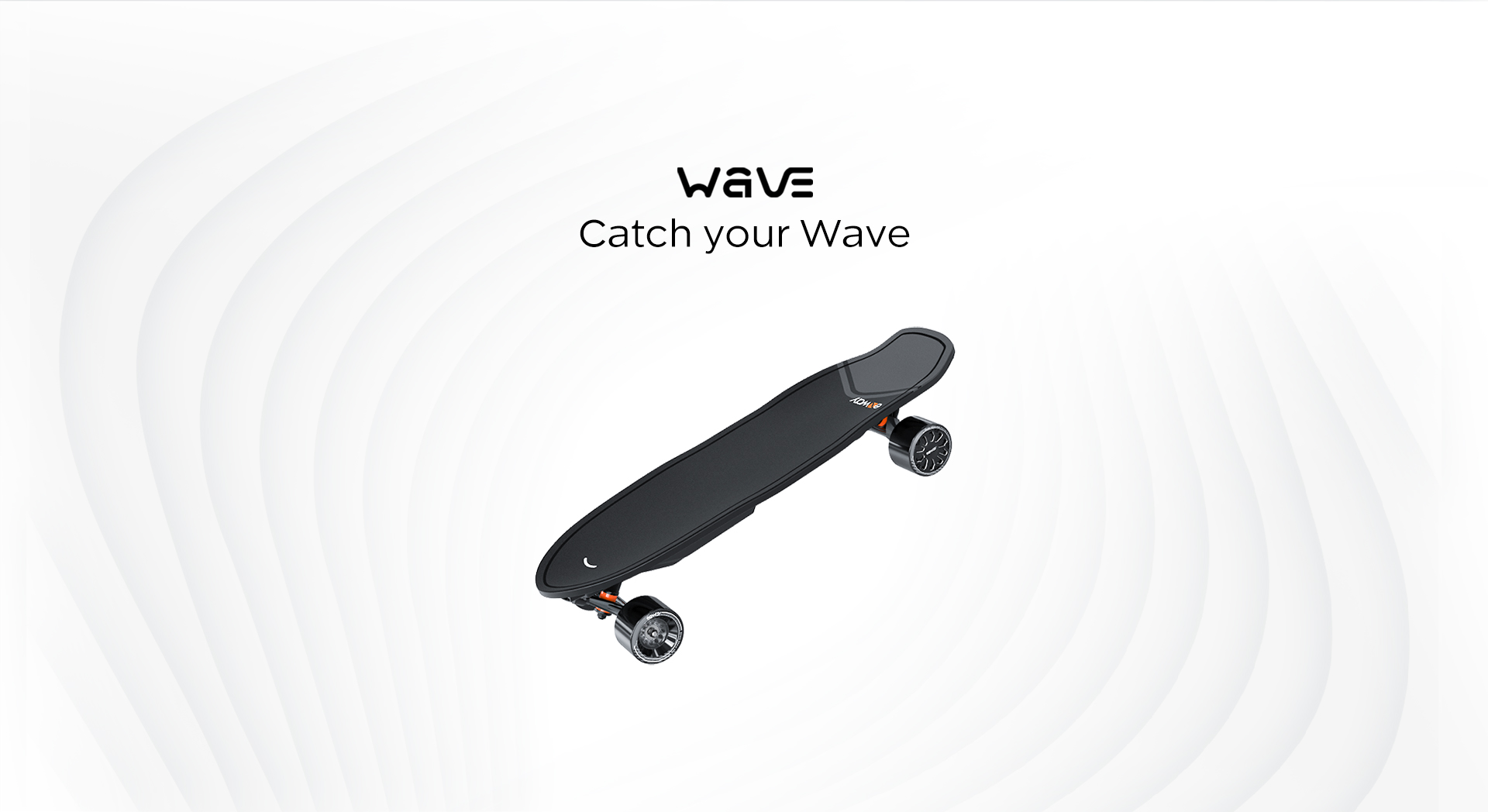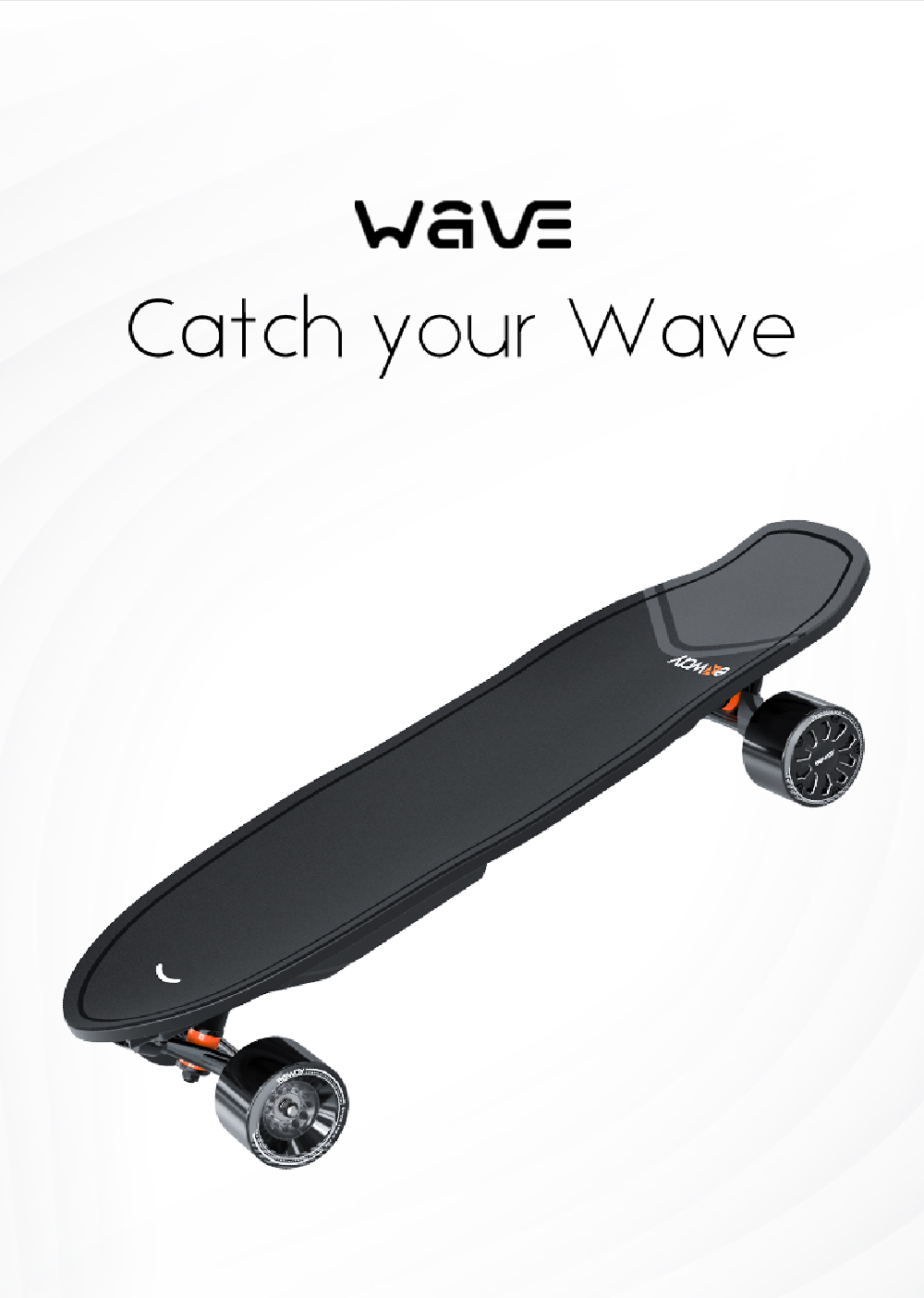 Unmatched flexibility
• Exway Wave is not only smaller in size and weight, but also meets the performance needed for daily use. You can put it under your seat, throw it in your suitcase, the possibilities are endless.
• Also a shorter distance between front and rear trucks with kick tail design leads to an unparalleled agility;
• Standard equipped tail puck can better protect the deck without having to worry about wearing down the deck.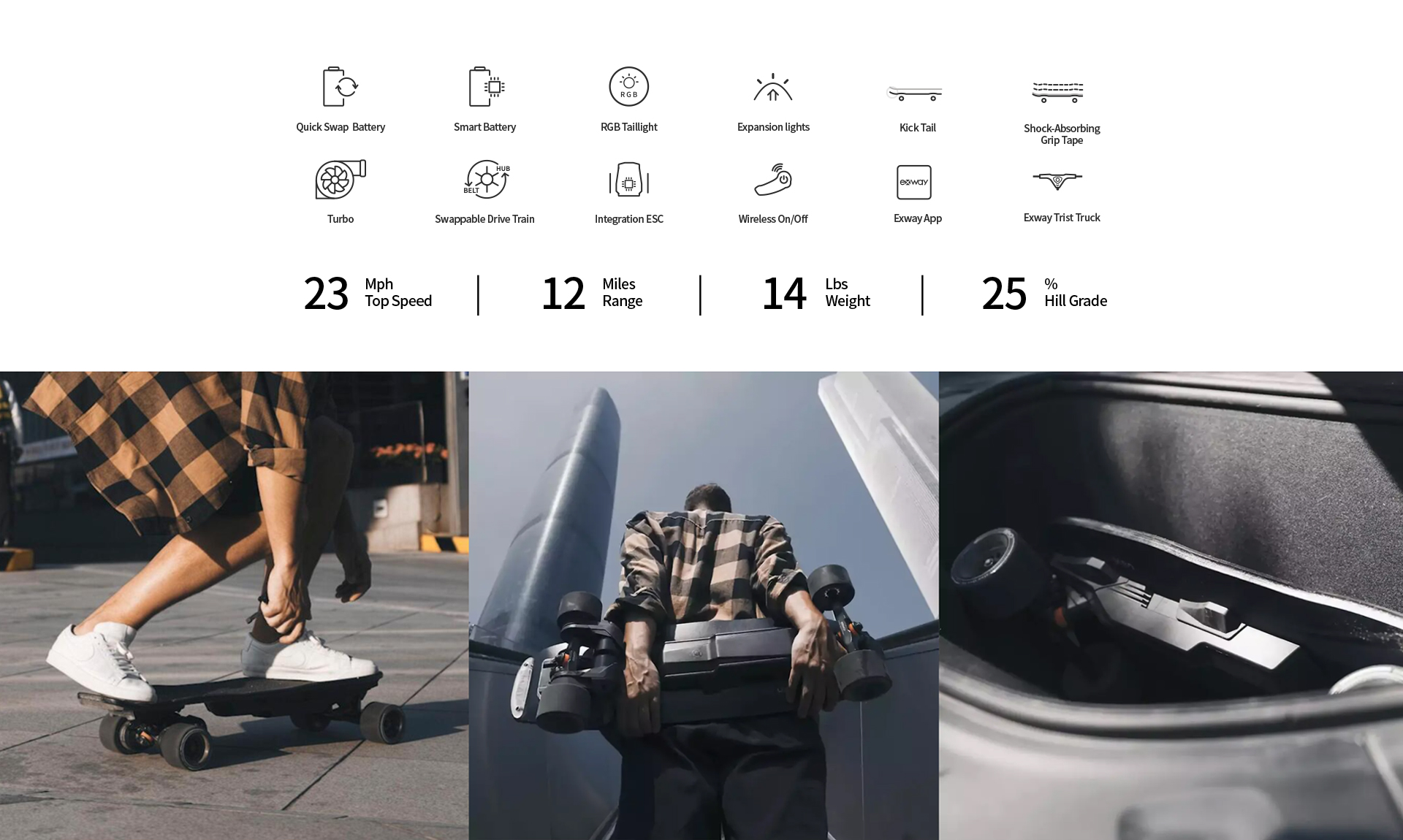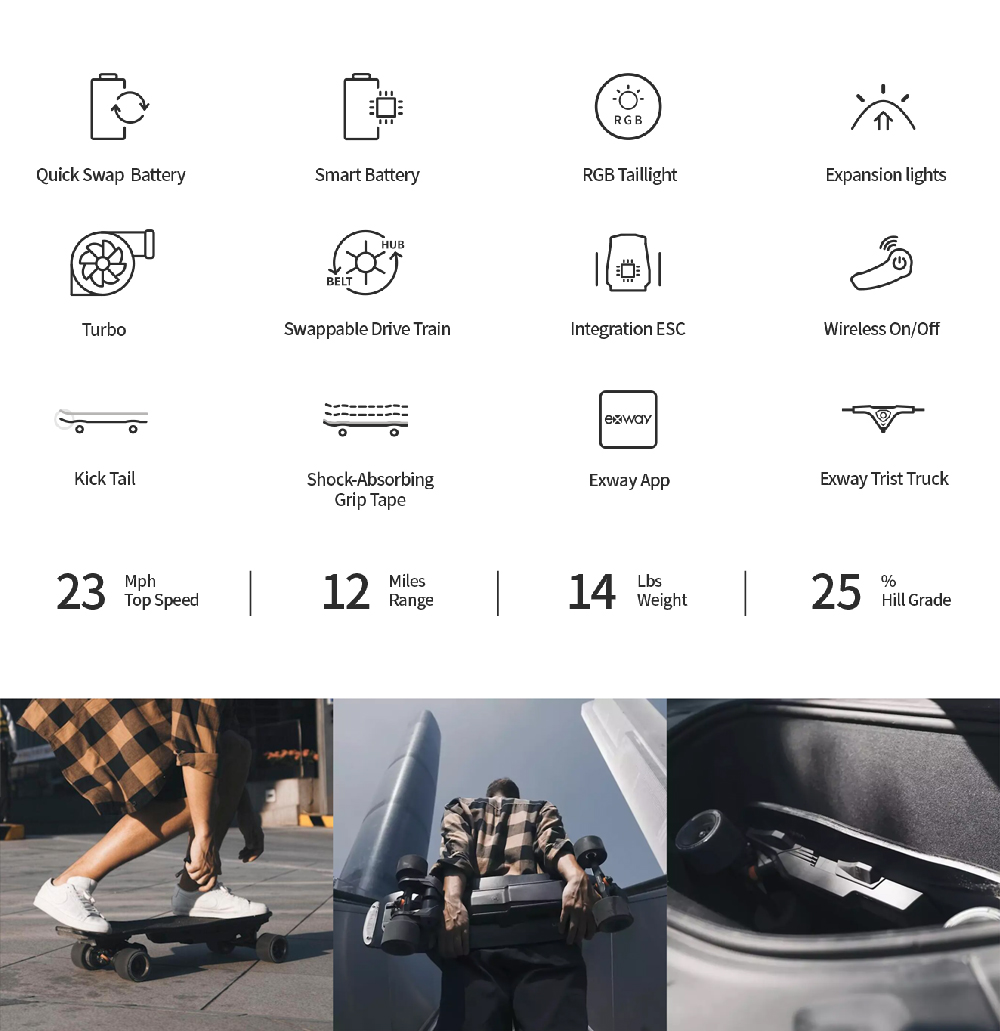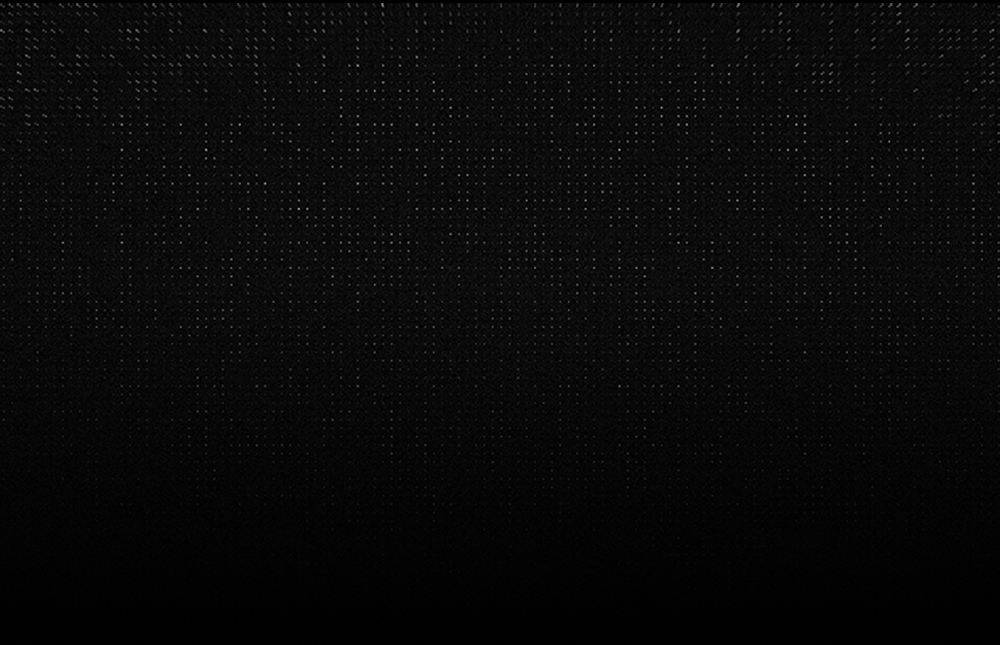 Quick-Swap Battery Modules
Quick-Swap Battery Modules
Designed to be safe and compact so riders can throw it in their backpack anytime. At just under 2 kg/ 4lbs, the 180Wh module gives riders up to 20km/12miles of range on a single charge, and doubles as a power bank to charge mobile devices. (Max 10W)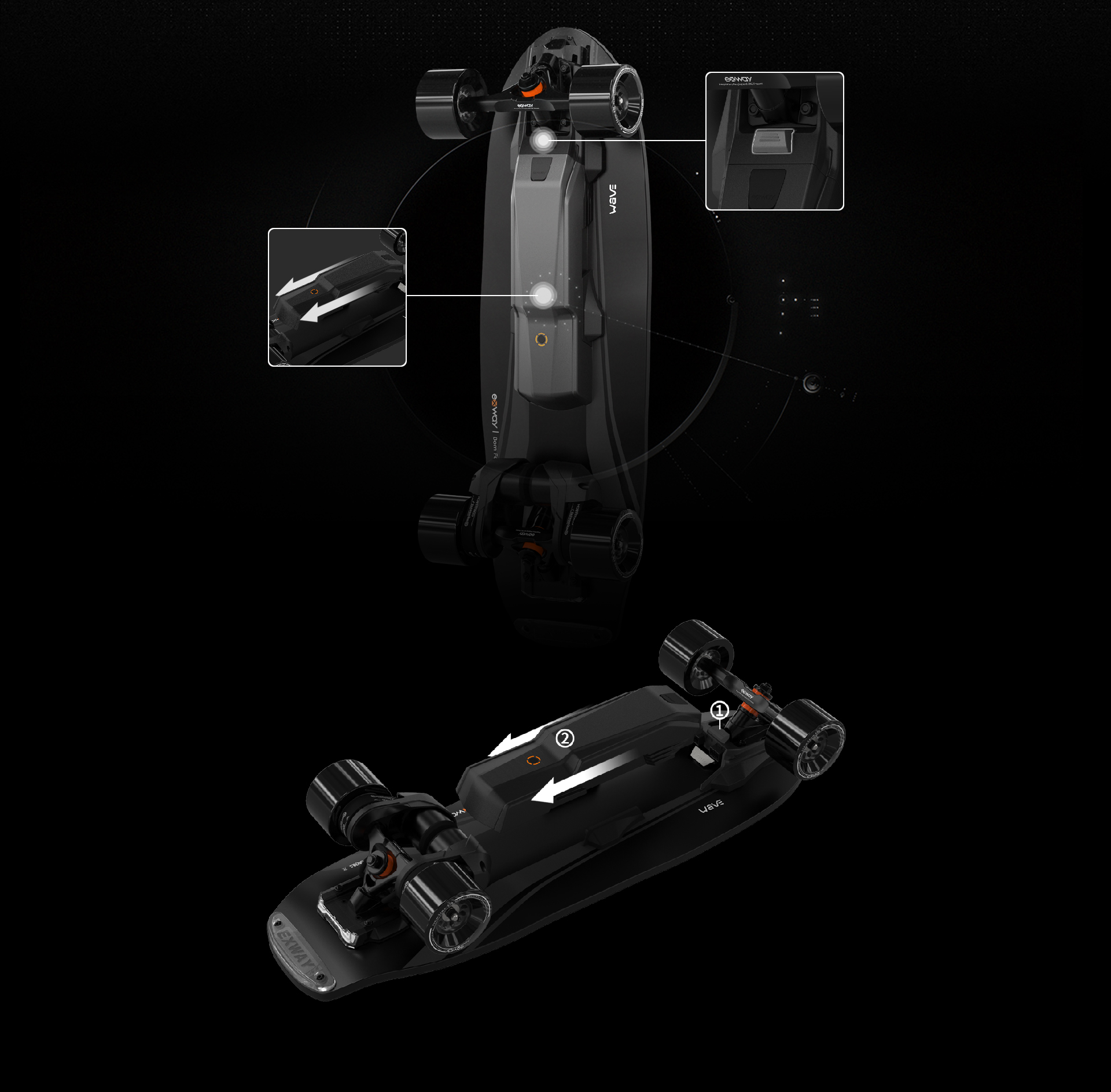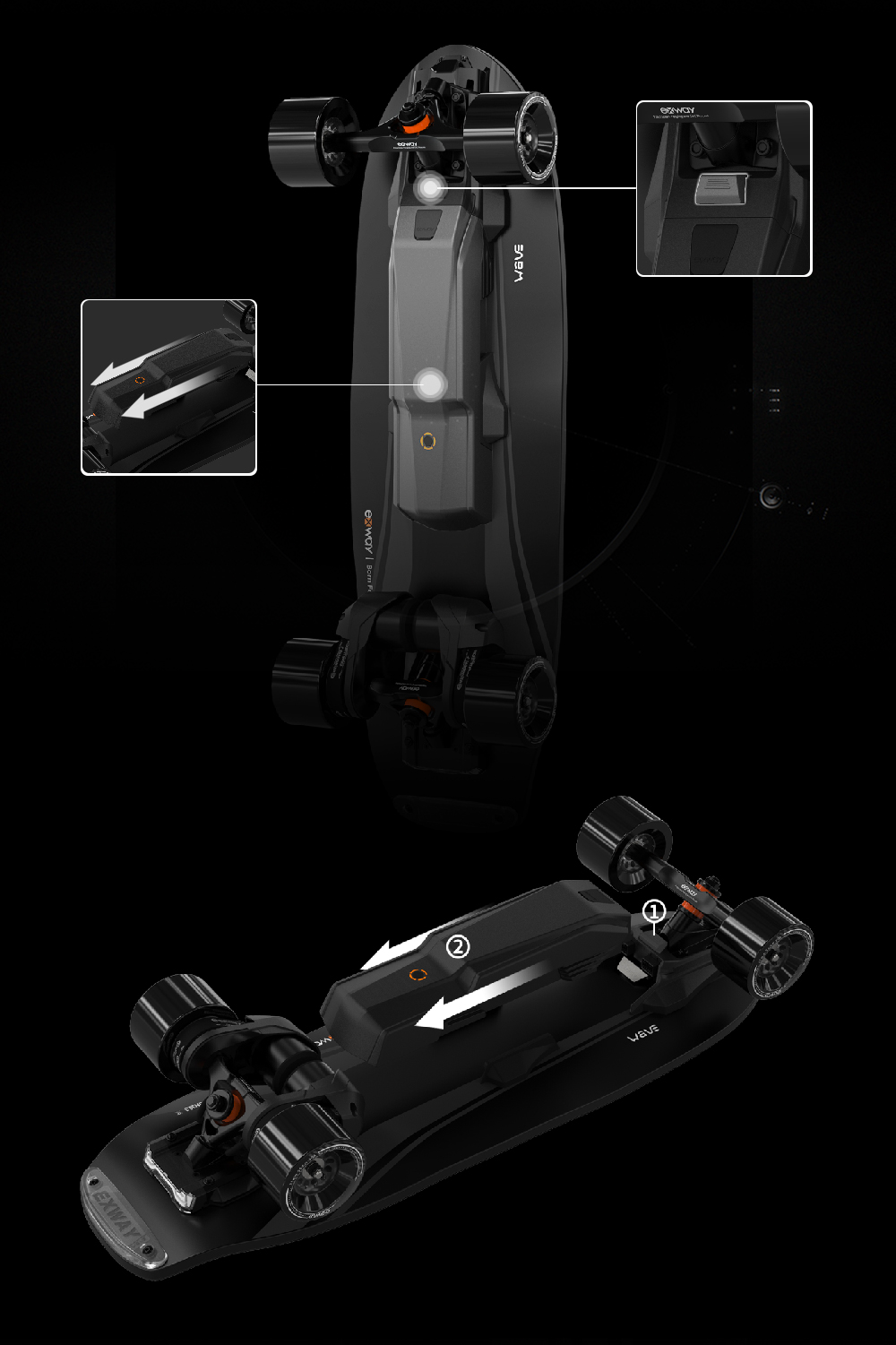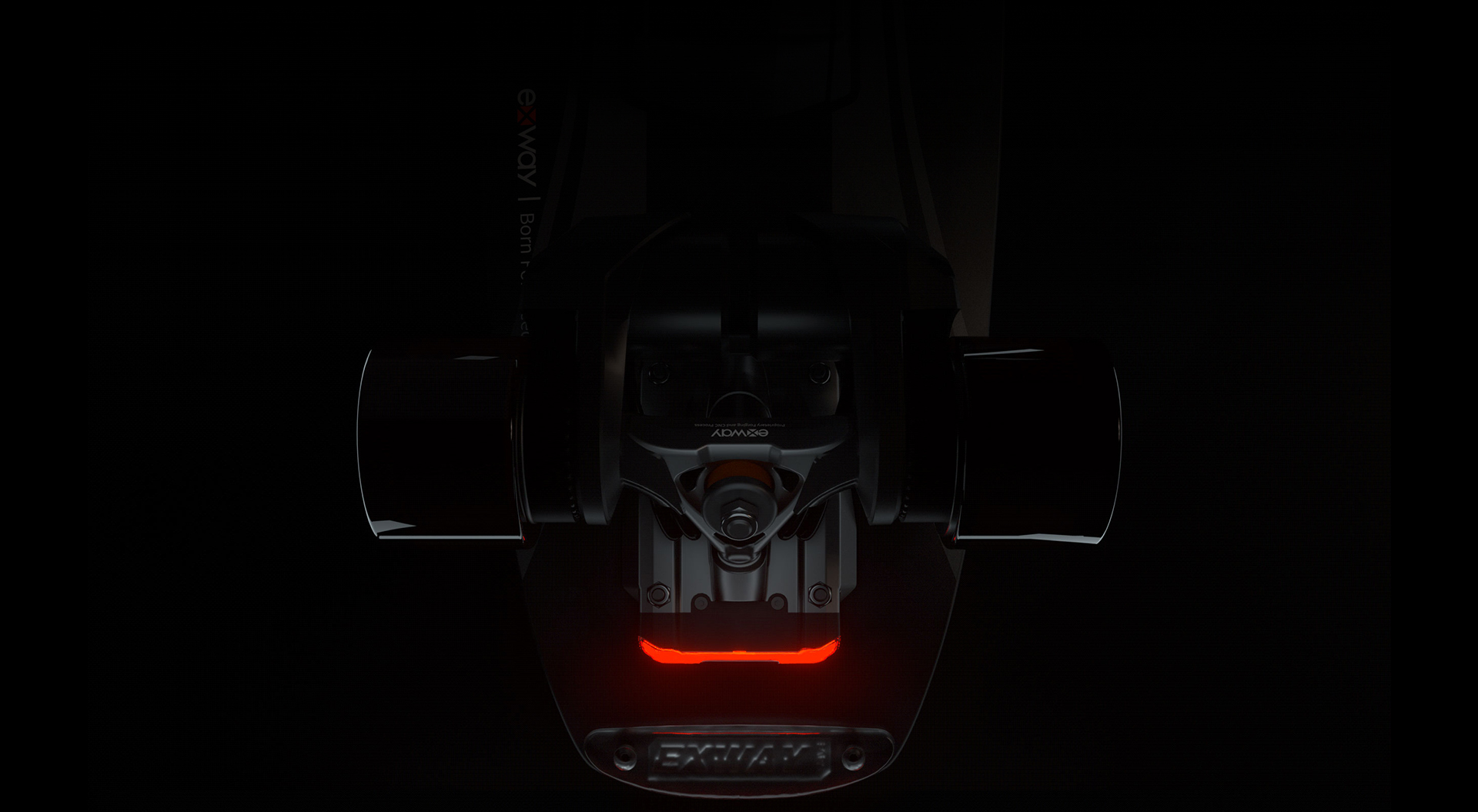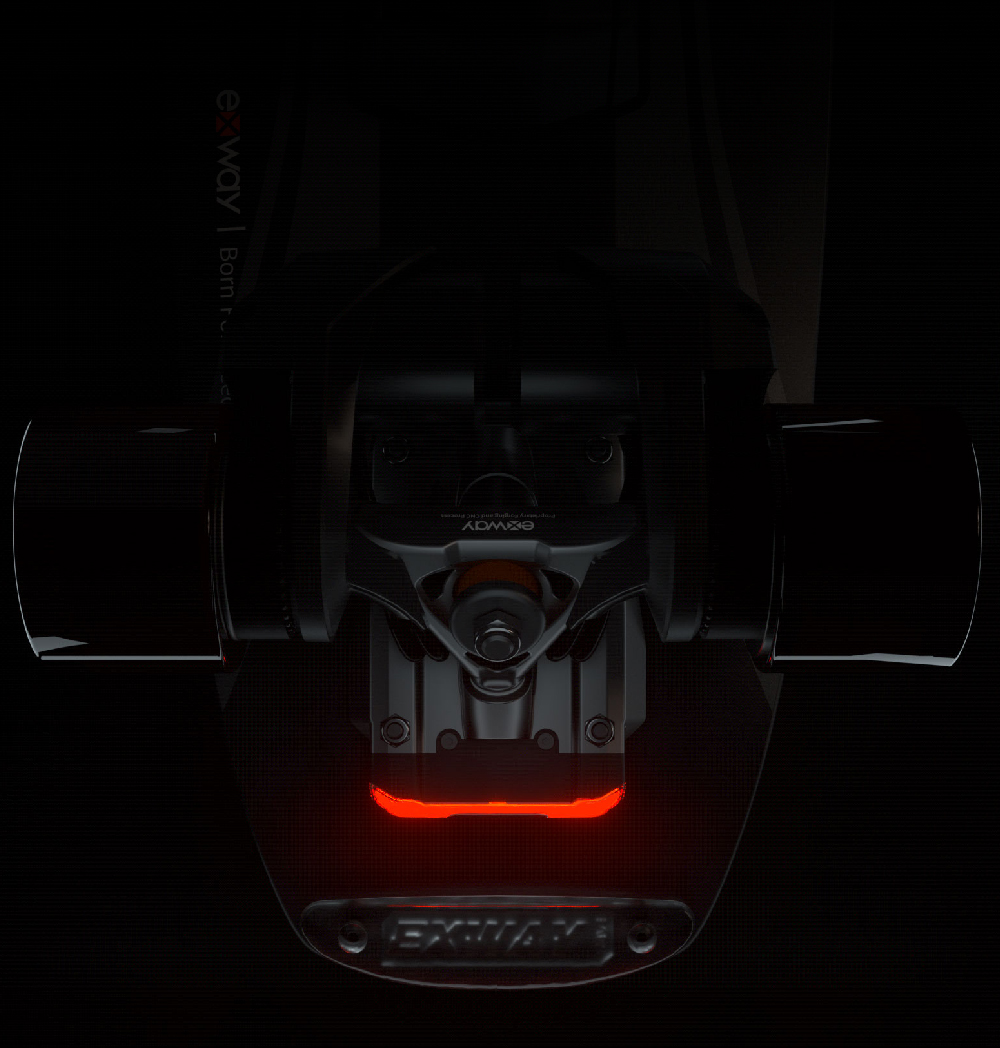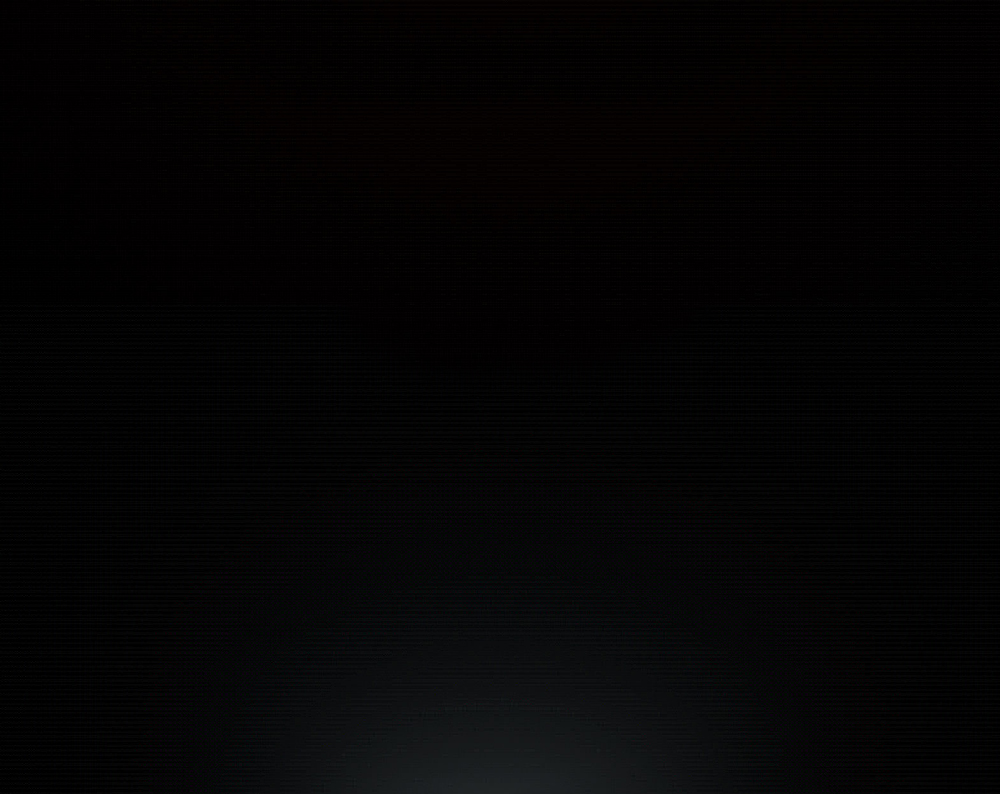 Hassle-Free Lighting with ESC 2.0
Hassle-Free Lighting with ESC 2.0
To maximize the space available for the battery module, we've built the ESC into the base of the drivetrain. And we didn't stop there.
Front and rear lights powered by the battery module have also been integrated into the base of the trucks,
controlled by one touch button on the remote.
No more bending down to turn your lights on, no more forgetting to charge your lights, just grab your Wave and go ride!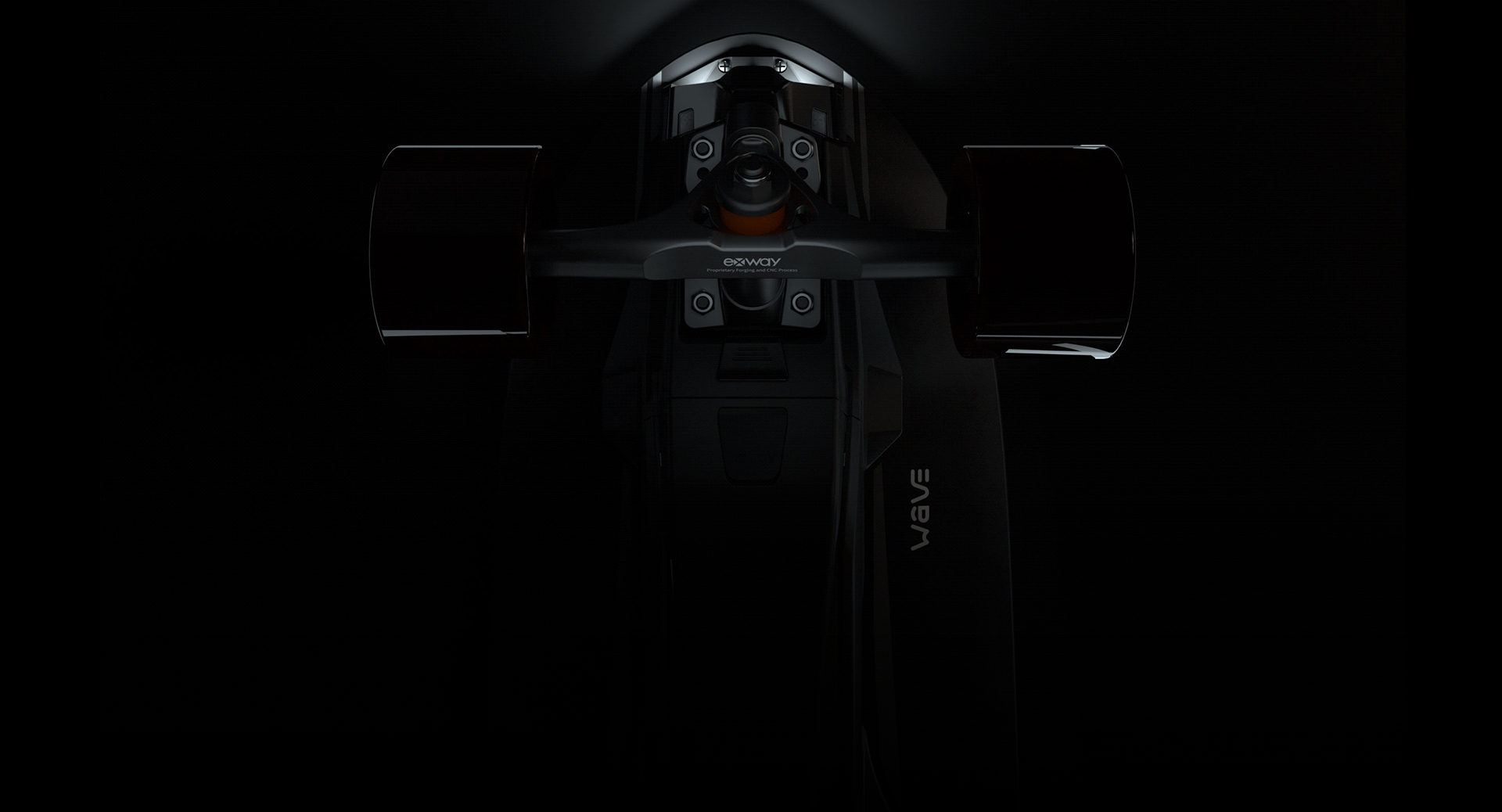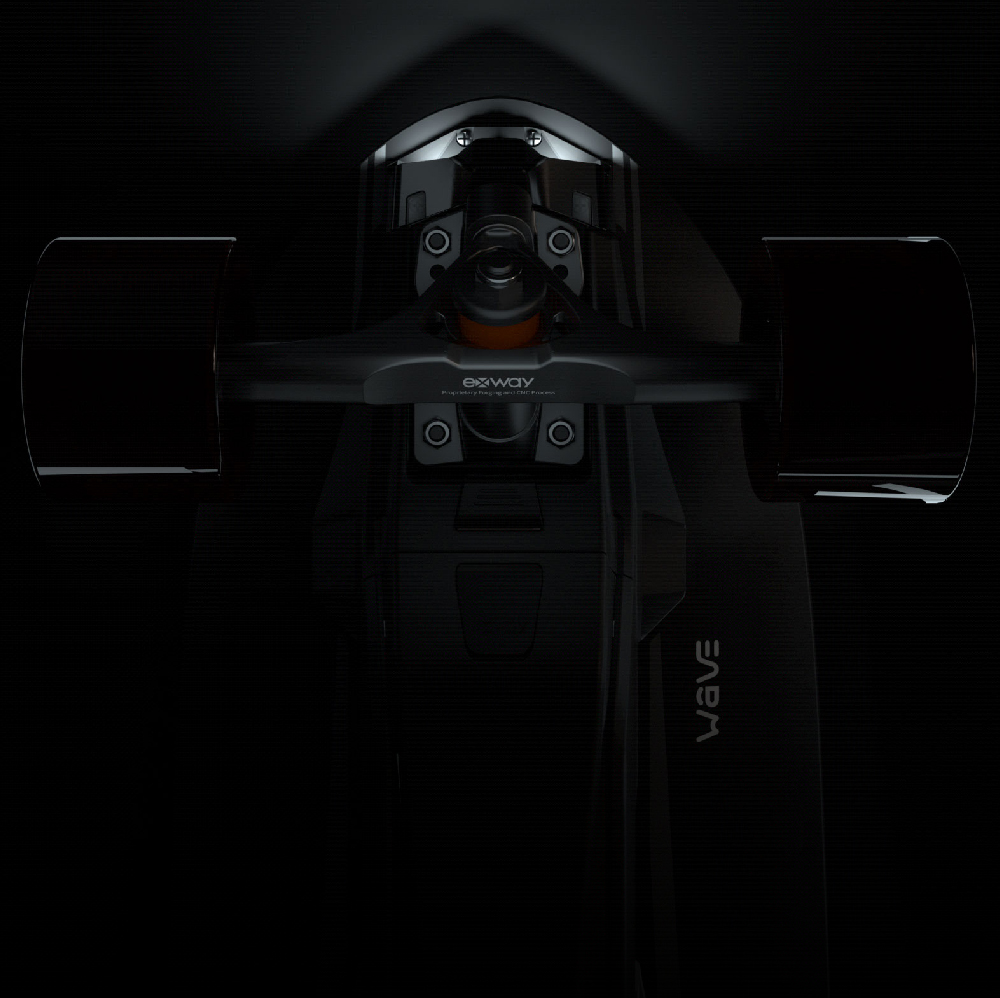 In-House Deck Design
Here at Exway, we love a comfortable yet controllable deck, so we created our own cruiser-style deck for the Wave, with variable concave, foot pockets and wheel flares. Oh and we didn't forget the most important part, a kicktail!
Constructed with layered fiberglass and maple, then finished with a UV cured coat, we made sure the Wave would stand up to the "drop and go" ride style of the most seasoned skaters.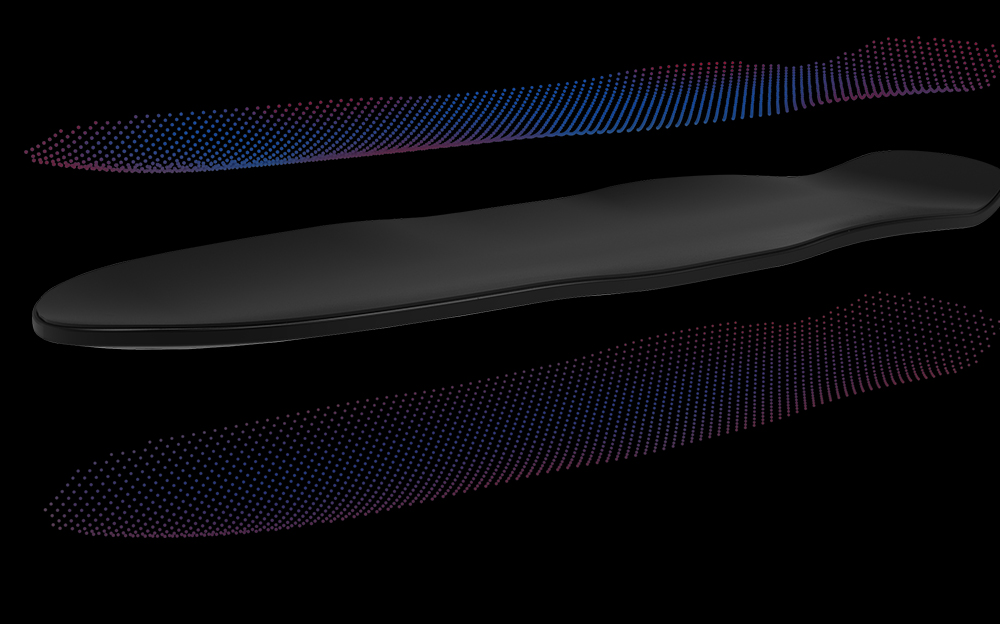 ESC 2.0 Inside
Powerful yet smooth, the ESC 2.0 housed between the drivetrain and deck makes the Wave an ultra-nimble and controllable ride.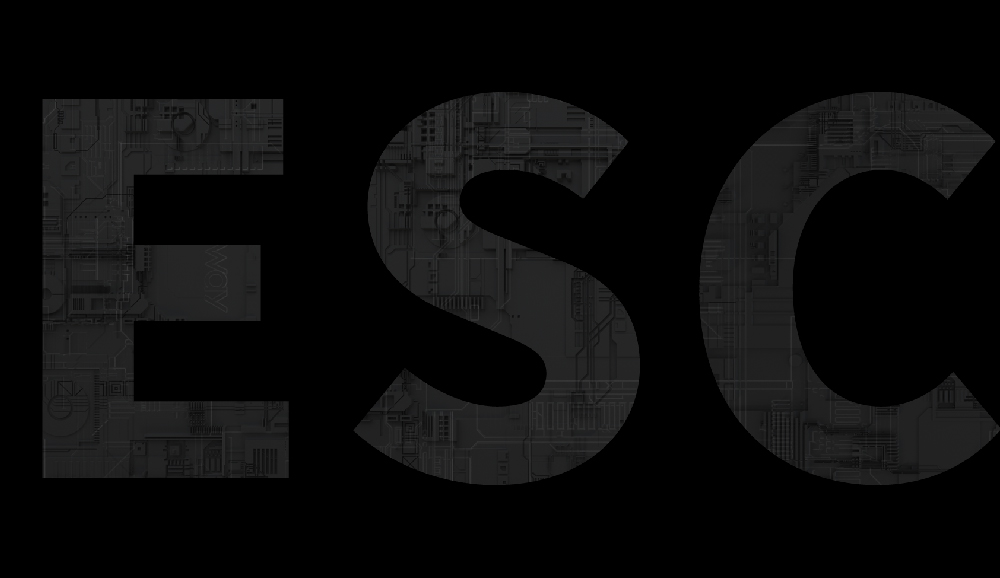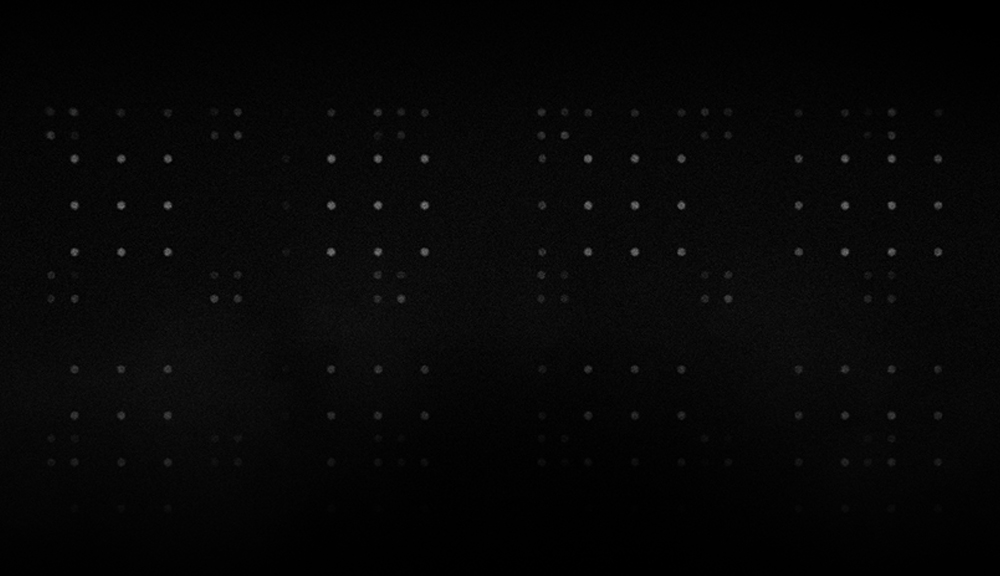 One Board, Two Ways To Ride
One Board, Two Ways To Ride
Compatible with belt and hub drives using our in-house Trist RKP trucks, swap one out for the other easily
and experience a whole new way to ride.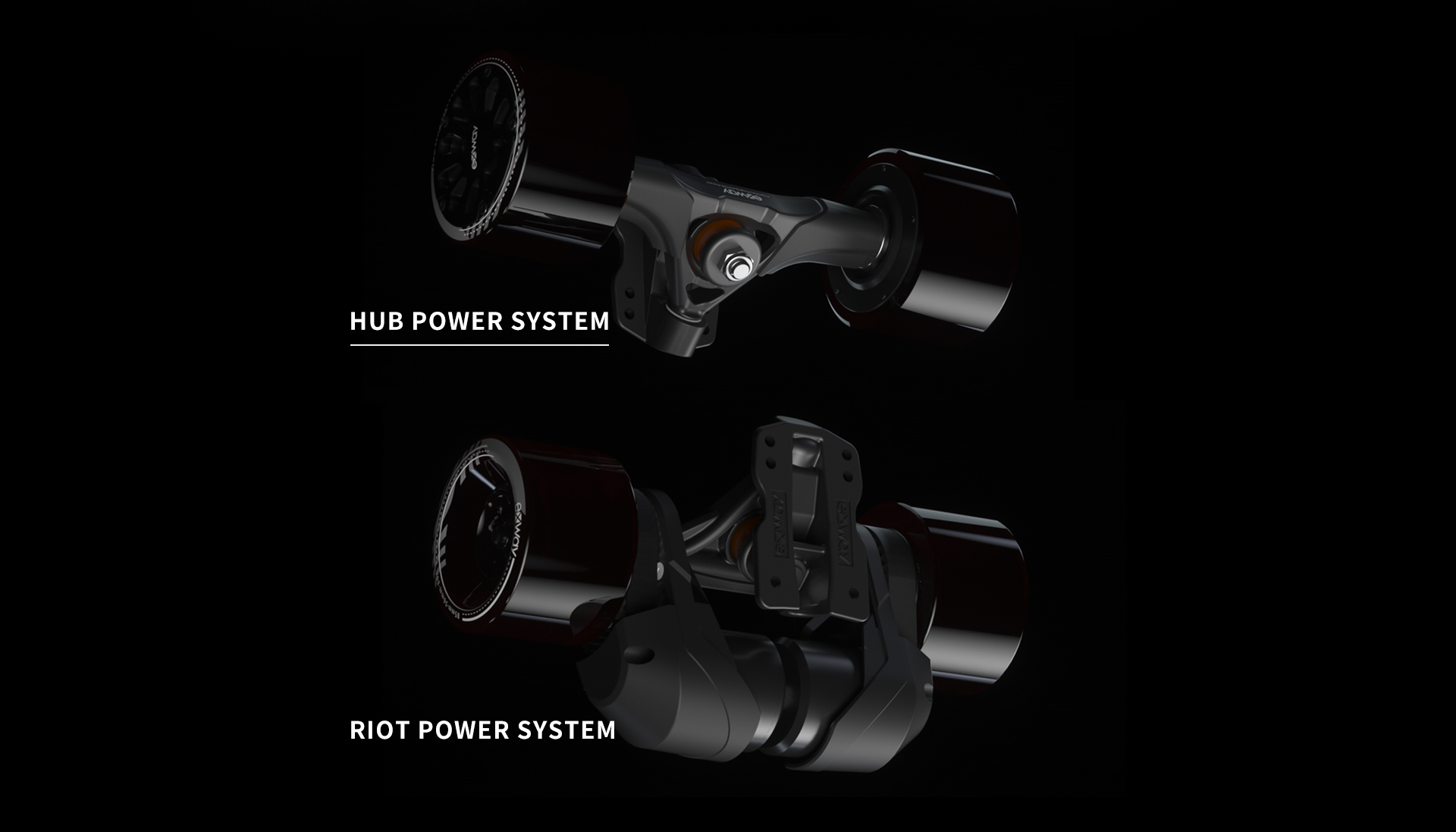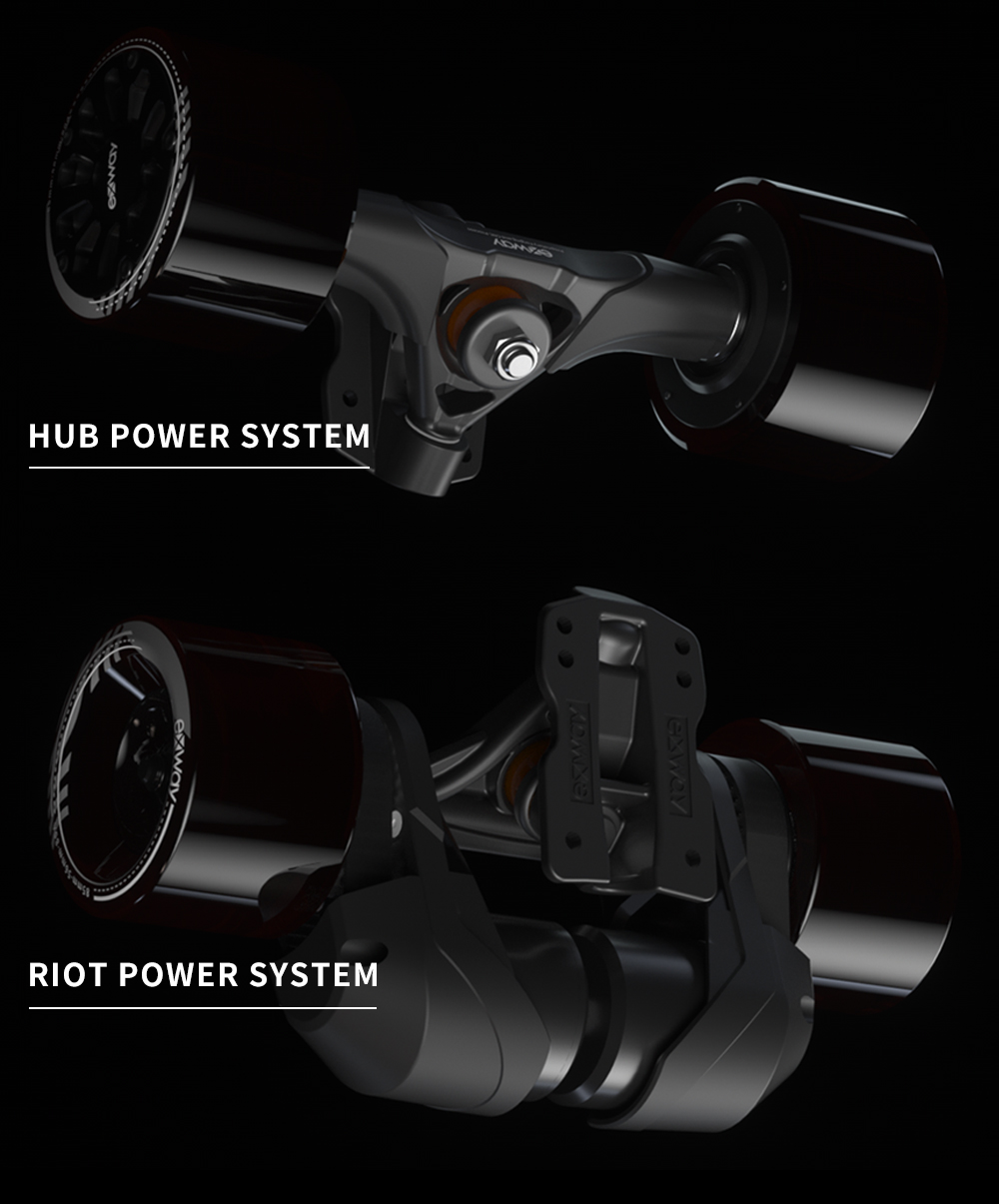 Smart and Safe Power
With individual cell monitoring for all 24 cells within the battery module, UL certified software and hardware protection systems, and rated for IP55 water resistance; charge, store, and ride the Wave worry-free as we've put in the work to make it as safe as we can.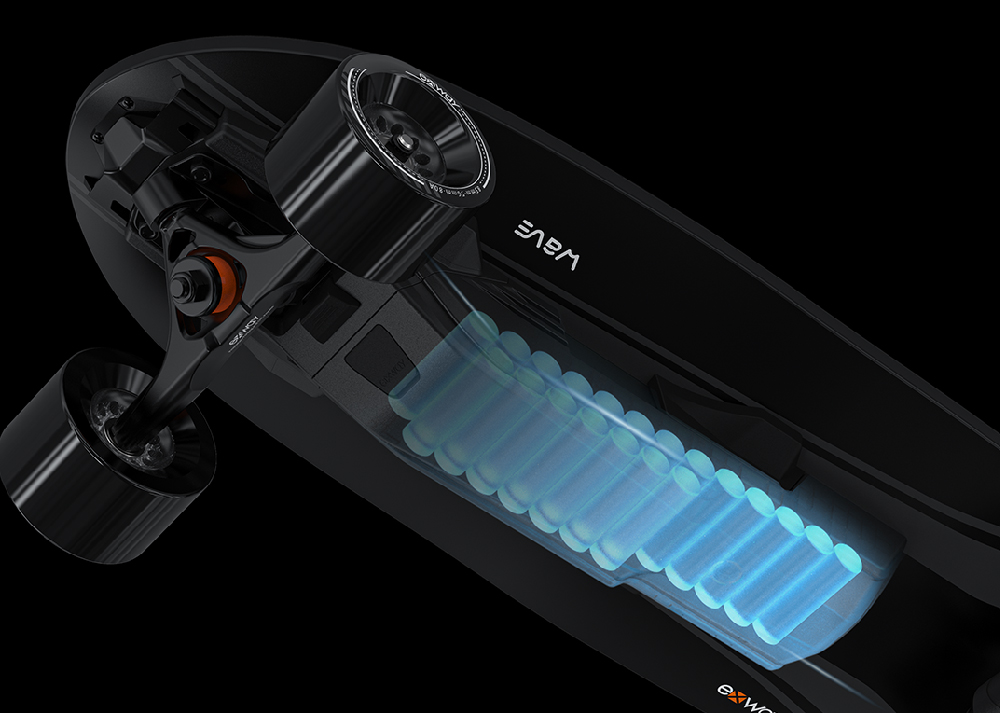 Specs
Top speed: 38kph/23mph
Range: Up to 20km/12miles
LxWxH: 762×268×168mm
Deck: Classic Maple Cruiser Deck
Weight: 6.9kg/15lbs
Battery: 180Wh, Travel Friendly 99Wh
Braking: Regenerative Brakes
Truck: Exway Trist 45°7inch Aluminium Forged
Max Load: 200kg/440lbs
Hill Climbing: 25%
Wheels: 85*56mm 80A (black)
Remote: R2
Recharge: 4H (Standard Charger )/1.8H (Quick Charger)
Standard Belt Length: 5M255-15
Suitable Belt Length: 235~275
Suitable Pulleys: 28T/36T
Which is the Best for You?
FAQ
RIOT Power System
Provides stronger torque, acceleration, braking, and power delivery. Utilizing belt-driven motors, it is compatible with a wide selection of longboard wheels on the market, expanding your choices and allowing you to tune your ride how you want it.
HUB Power System
Runs more quietly with less resistance and offers greater protection from debris. The low-key design of the built-in brushless motors paired with other hidden electronics allows the board to blend in with ordinary longboards.
The water-resistance of the skateboard is IP53, which is resistant to splashes and dust under normal conditions, but if you ride in a puddle or where the water level is high, or even immerse your skateboard in water, the water is likely to enter the electrical parts and damage the part. Please do not ride in the rain or any wet ground with water, this will cause a high risk of water damage and may cause the motor bearings to rust and make noise.
The 180Wh edition comes standard with taillights.
The 99Wh edition comes standard with headlights and taillights.
Lithium batteries with 100-watt hours or less in a device
Carry On Bags: Yes
Checked Bags: Yes (Special Instructions)
Spare (uninstalled) lithium ion and lithium metal batteries, including power banks and cell phone battery charging cases, must be carried in carry-on baggage only. Lithium metal (non-rechargeable) batteries are limited to 2 grams of lithium per battery. Lithium-ion (rechargeable) batteries are limited to a rating of 100-watt hours (Wh) per battery. These limits allow for nearly all types of lithium batteries used by the average person in their electronic devices.
This instruction covers spare lithium metal and spare rechargeable lithium-ion batteries for personal electronics such as cameras, cell phones, laptop computers, tablets, watches, calculators, etc. This instruction also includes external battery chargers (portable rechargers and power banks) containing a lithium ion battery. For more information, see the FAA regulations on batteries.
For lithium batteries that are installed in a device (laptop, cell phone, camera, etc.), see FAA regulations for "portable electronic devices, containing batteries".
NOTE: The final decision rests with the TSA officer on whether an item is allowed through the checkpoint.
The following is the description of the official website of the US TSA about carrying batteries
https://www.tsa.gov/travel/security-screening/whatcanibring/items/lithium-batteries-100-watt-hours-or-less-device
Wave 180wh Edition
* United States: sold out
* EU: Fully stocked, shipped from Germany. Estimated delivery time is 5-8 working days.
* UK: sold out
*Asia: sold out
Orders from Japan: sold out
Wave 99wh Edition
* United States: Limited stock, first come first served. Shipped from California, estimated delivery time is 15-25 working days.
* EU: Limited stock, first come first served. Shipped from Germany, estimated delivery time is 5-8 working days.
* UK: Shipped from Merseyside. The shipping time is estimated to be 5-8 working days.
*Asia: sold out
I ordered more than one item. Will they all be delivered at the same time?
We try to make sure all your items reach you at the same time. Sometimes our products are not always sent together since different shipping options can be used, depending on the product. Once an item has been shipped, you will receive a shipment notification email.
* Please allow extra time for transit during COVID-19 and Holiday Periods.
Customer Reviews
Here are what our customers say.
Wow you reached the bottom
Most liked
Highest ratings
Lowest ratings
The review would not show in product details on storefront since it does not support to.